Private Email?
Posted: 15 August 2013
Filed under:
Tech Newsflash
| Tags: email privacy, Google+, Internet privacy
6 Comments
Gmailers Beware: Google Says You Have No "Reasonable Expectation" of Privacy
Is anyone out there really surprised about this? In this day and age, is anyone really still naive enough to think that their electronic mail is private? There is no privacy anymore.
The only private conversation you can ever have is the one with those voices in your head, and even that may be under surveillance soon thanks to Google's prototype as-yet-unnamed cranial chip implant (codenamed: Chips Ahoy).
Be the first on your block to get one! It's safe. Don't you worry. Remember Google's Prime Directive: Use ALL data from ALL sources to make disgustingly large amounts of money! Er, no… wait. I meant their other Prime Directive: Don't be evil.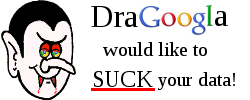 Later…
~Eric
---